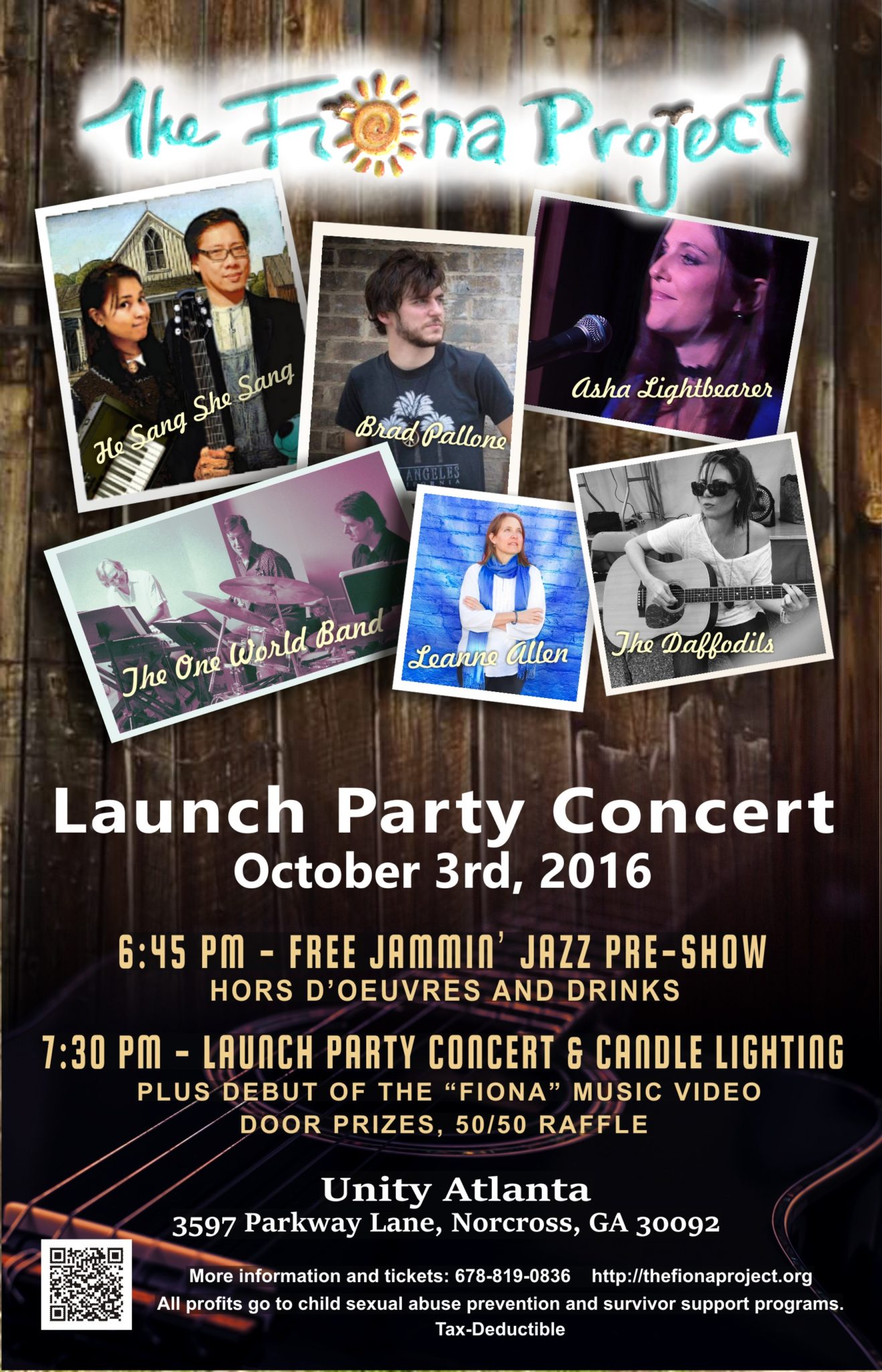 The Fiona Project Launch Party Concert

[vc_row iron_row_type="in_container" iron_remove_padding_medium="" iron_remove_padding_small="" iron_overlay_pattern="" iron_parallax="" iron_bg_video=""][vc_column][vc_column_text]
Join us for an amazing evening of music, food, drinks and charity!
From our special Jammin' Jazz meet and greet to the closing candlelight ceremony and Fiona video debut, this is going to be a night to remember. We will have food, drinks, raffles and giveaways all dedicated to providing an uplifting and fun way to support child sexual abuse prevention and survivor support programs.
Unity Atlanta
3597 Parkway Lane, Norcross, GA 30092
(map)
Schedule of Events
6:45pm – 7:30pm ~ Free JAMMIN' JAZZ: HORS D'OEUVRES & BEER/WINE BAR pre-show
Listen to the hot sounds of the One World Band, while you enjoy some yummy hors d'eouvres and meet community advocates from local Metro-Atlanta Child Sexual Abuse prevention and survivor support programs. Make sure you thank them for all they do to protect our children and help survivors in need.
Our musical artists from the evening may also make appearances during this time to chat with you about their band, their music, or anything you like!
Cash bar provided.
The One World Band: Tom Olsen, John Hancotte, Bob Schneider
7:30pm ~ MAIN EVENT: CONCERT and CANDLELIGHTING
Let us entertain you! From simple and haunting acoustic solos to rockin' bands, raffles and drawings, we've got you covered.
Talented singer/songwriter and empowerment advocate, Claire Pearson of The Ormewoods, will host our Opening Ceremonies concert and Fiona video debut. This spectacular fun-filled evening of performances, stories and tips from our partner charities will leave you with a full heart and the knowledge you need to protect the children in your life.
The evenings events will include:
Performances by the following bands and songwriters (in this order):
Tips from our resident CSA Charities represented at the concert
Fun drawings for door prizes and a cash raffle
Asha's story of remembering and healing: "Faith, Hope and Love"
Candlelighting Ceremony and StandUp for the Children Pledge
Fiona video debut
You won't want to miss this special night of music and healing for our families, our community and ourselves.
SPACE IS LIMITED so reserve your seats now!
*All profits will be used to promote Child Sexual Abuse awareness, prevention and survivor support programs. All contributions are tax-deductible.
---
OUR PERFORMERS
---
BRADLEY PALLONE: Starting off playing in bands of vastly different genres, Brad is now going back to his roots as a singer/songwriter. Raised in the suburbs of Atlanta, he began writing music at age 12 and has set his focus on crafting emotionally heart-felt songs ever since. Today, he shares his music with the world in hopes to inspire us all with his personal lyrics and thoughtful melodies.
---

LEANNE ALLEN: This Acworth-based singer-songwriter began writing music in her late twenties after taking up journaling to work through some difficult childhood memories. Over time, her writing became more and more poetic and soon transformed into song. A songwriter was born. Today, Leanne shares her profound lyrics of hurt and healing in hopes to help others who are in pain.
---

HE SANG SHE SANG: Bronne and Alma Dytoc are a dynamic musical duo that will blow your socks off! Their arrangements are fresh, unique and compelling, leaving you wanting more. They thrive on musical exploration and live performance and it shows. From covers to originals, this powerhouse combo rocks!
---
THE DAFFODILS:The daffodil is the most resilient flower and is the first to bloom after a long, cold winter. Heidi Higgins and Claire Pearson are The Daffodils. They write songs from a strong female perspective with empowering undertones based on actual experiences. Their songs could come straight out of their diaries which makes them raw, strong, and undeniably feminine.
---

ASHA LIGHTBEARER: What do you get when you start with a classical piano upbringing; add a heaping spoonful of good 'ole folk and classic rock, and a dash of jazz? A recipe that is the perfect blend of influences for a rich, soulful and satisfying musical treat. From soul-stirring intensity to classic charm, Asha brings passion and delight to every performance.
---
Thank you in advance for your support!



Shining a light on child sexual abuse for help and healing
From the Founder,
Whether you attend one of our concerts or not, please:
Share the Fiona music video
Learn to protect the children in your life
Learn the signs and symptoms of abuse and what to do if you suspect a child is being abused
Donate to The Fiona Project
All it takes is 10 minutes of your time. Save a child. Help a survivor.
Together, WE CAN MAKE A DIFFERENCE.
*The Fiona Project Concert Series is a project of The Fiona Project LLC sponsored by The Chelko Foundation. All profits from The Fiona Project Concert Series & Music Video are used to fund much needed child sexual abuse awareness, prevention and survivor support programs in Atlanta and across the country.
Click for more information about The Fiona Project or to submit an organization for funding consideration.
Get Tickets
[/vc_column_text][/vc_column][/vc_row]