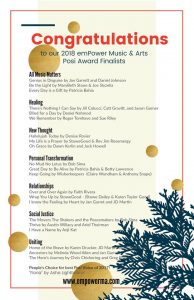 Paul and I are very excited to be headed to Tampa this weekend to claim the People's Choice Video award for (Welcome Home) Fiona. This video took over two years to create, but it paid off with a chance to The Fiona Project with several hundred musicians and fans.
Thank you everyone for your votes and your support. Now, cross your fingers that I am inspired with the perfect words to touch the survivors in the audience and encourage the musicians and fans to join our movement of child sexual abuse prevention and survivor support through concerts, art and poetry.
PS. I get to share a two brand new songs while I'm there too! One at the opening Music Matters concert on Friday night and another during the Pajama Jam concerts later that evening. Plus, Paul will be playing harmonica with me again on a few newer tunes as well! It's gonna be fun!
It's been several years since I've attended, so I'm really looking forward to seeing what's new in the posi-music world.
Wish us luck!  We'll take some video and photos whenever possible and share them back with you.
See you soon!