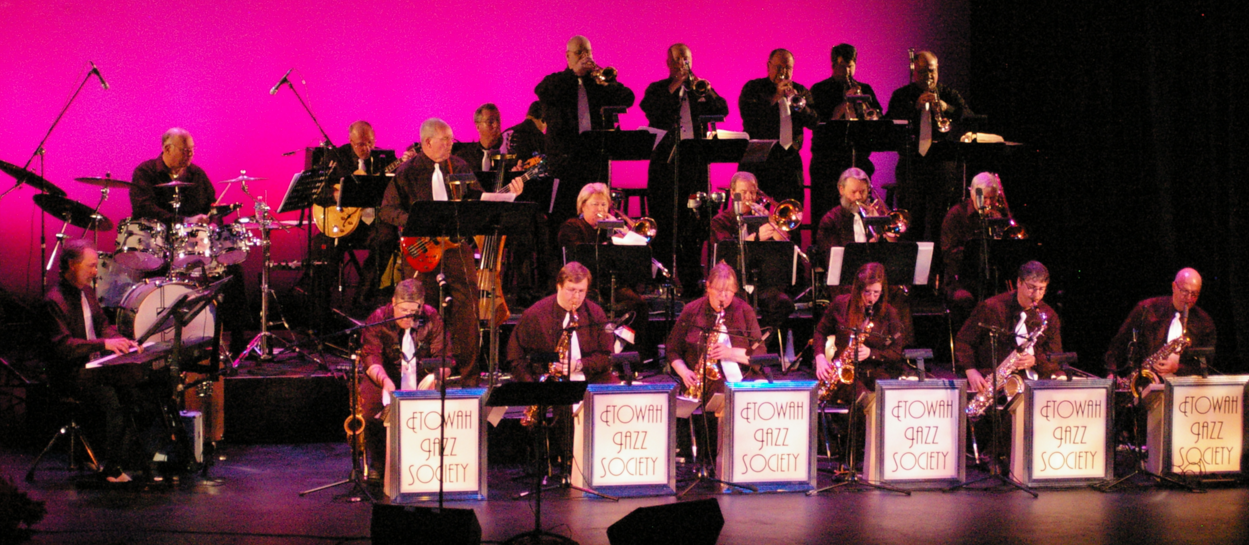 Etowah Jazz Society Concert

Join us for a very special Valentine's day concert in Cartersville, GA hosted by the Etowah Jazz Society, featuring songstress Roberta Longacre with supporting vocalists Asha Lightbearer and Cindy Lou Harrington.  Etowah Jazz Society is a non-profit organization of volunteer musicians dedicated to bringing jazz to North Georgia. All funds raised will be used to provide scholarships to Music Majors attending University.
This time the program will feature themes from TV and the movies.
Tickets are $20 in advance and $22 at the door. Order at our office (770-386-7343) or at
www.thegrandtheatre.org.

---
About the Etowah Jazz Society
The Etowah Jazz Society (EJS) is a big band formed in April of 2002 by a group of dedicated local area musicians who love to perform a wide variety of music, ranging from Big Band-era classics and jazz standards to Broadway and pop hits.
We are a charitable not-for-profit 501c3 organisation with the purpose of bringing the big band sound and jazz as a musical style to North Georgia. In addition, we supply scholarships and educational opportunities to students of the area. The Title "HEADWATERS" came to us when we wanted to express our dedication to bringing the sound of big band jazz to the next generation. Our band is the the "headwaters" from which this information will flow downstream to the next group of jazz fans. The EJS is comprised of some 17 players from all walks of life who live in the local and surrounding communities. Among the many musicians that perform for EJS, you will find a Retired Surgeon, Accountant, HP Consultant, Physician, Cartersville High School Band Director, Retired Acountant, Marketing Executive, Middle School Teacher, Physical Therapist, High School Drama Teacher, Tech Manager, Retired School Administrator. We love what we do and we have great fun doing it. We hope to keep Big Band Jazz around for generations to come. We continue to play live thruought the local area and hope that people will enjoy our efforts. We try to make Big Band Jazz FUN and keep the Great American Songbook alive. Hope you enjoy our efforts!
Why this name?
Etowah – to associate the group with a regional icon. The Etowah River is a well-known local landmark that slowly meanders through our lovely and historic community.
Jazz – one style of music that the group enjoys performing.
Society – \"people of the community\" by definition.